The 10 Best Trends In WWE Fandom
Why is WWE fandom exploding? One normally doesn't have sports (or sports "entertainment") represented in fandom, but WWE is unique. It's equal parts drama, storytelling, and flat out fun. No wonder it's become so popular.
Growing up watching WWF (as it was called then), I was glued to my TV every week. Yes it was amazing to watch the athleticism, the sheer size of the stadiums, and the cool characters throwing each other around. But in the end, and what I didn't realize at the time, is that the storylines is what hooked me. Some called it a "soap opera on steroids", but I didn't care.
Fandom, in all it's amazingly weird glory, has recently embraced WWE and it's all to strange storylines. It's a match made in geekdom heaven, so lets explore some of the coolest trends in WWE fandom at the moment.
Welcome Girls
WWE has often been seen as a boys game, but recently girls have been making their voices heard in the community as well. Female wrestling fans are just as hardcore as male fans, they have meaningful discussions, they write damn good fanfic and their artwork is amazing!
They also give more support to female wrestlers. The support given to amazing female wrestlers such as Trish Stratus, Lita, AJ Lee, the Bellas, Paige, Sasha Banks, Bayley, Charlotte, is growing. These wrestlers are amazing athletes, and great role models as well.
And please, please don't say girls are only watching for the good looking guy wrestlers. Do men enjoy the amazing shape of female wrestlers? For sure. But to reduce the female fanbase to only that is, well, insulting. Knock it off!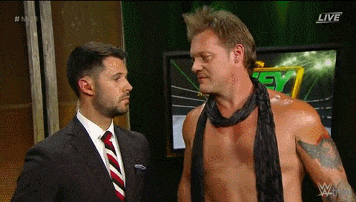 Mix Beauty With Blood
There is a certain poetry in violence, and WWE fandom is all over it. Every great story seems to deal with drama, loss, suffering, etc. But in the WWE, the conflict is often times, actual conflict. Fandom art has demonstrated this in really creative ways, mixing a romanticism with, well, violence. And the result is pretty cool.
credit: http://imagineambrose.tumblr.com/
WWE Wrestlers as Animals
Funny? Check. Interesting? Check. Creative? Yep. Strange but cool? Of course. Staying way the hell away from the furry corner the internet? Yes, thankfully.
credit: http://heyheykate.tumblr.com/
Wrestling Art In Real Life
Want to show your support for your favorite wrestlers and storylines? Are you a little tired of the typical t-shirts and hoodies the WWE offers? You are in luck, fandom has got you covered. Check out the amazing and creative prints below!
credit: http://heyheykate.tumblr.com/
Infighting
This is, to be honest, expected. You've got a fandom based on professional (scripted of course) fighting, you'd expect a few scruffles in the cheap seats. When storylines change, when characters fight or swing from hero to heel, people get excited, and angry. Fandom magnifies this energy and often times people will take it out on each other. Think of a Royal Rumble on tumblr, only it's a few thousand people and they don't leave the arena when thrown out of the ring.
But people, remember that fandom is about us. It's not serious life or death stuff, it's for fun. If you're not having fun, and taking things too seriously, what's the point?
Re-mixing WWE With Fantasy
WWE characters exist in their own storylines, but what about he greater world of fantasy? Taking well know personalities and characters in the WWE and giving them a new environment, perhaps a well known cross over to another fandom, is an awesome idea. We all know the characters well, their personalities, motivations, struggles, and backgrounds. But the WWE itself is made up of fast changing stories and situations, so why not throw your favorite wrestles into a totally different story?
Becky Lynch could be The Phoenix from X-men! Jean Grey anyone?
credit: http://aemarielle.deviantart.com/
WWE-Gaming Mashups
If you can throw wrestlers into tv or movie stories, why not gaming?
credit: http://bandgeekofjustice.tumblr.com/
Minimalist Art
You know, the type you see at museums. The type that one day could go for millions of dollars. That type of art. About the WWE.
We love it!
credit: http://bandgeekofjustice.tumblr.com/


Dean Ambrose Mania
We're not even sure why, but Dean Ambrose has taken over large parts of WWE fandom just for himself. The man is obviously weird (in the best kind of way) and his personality combined with a unique style sets him apart in the ring, and in the hearts and minds of the fan universe. I mean, how could you not love the guy?
credit: http://ieatnoodlesandidoodle.tumblr.com/
A Call For Unity
Lets face it, there is a lot of unrest and conflict in the WWE fandom world. But many are sick of the infighting and negativity, and they want a return to why we all became fans to begin with. Love of wrestling, love of the characters, love of the stories. So lets leave the fighting to superstars, shall we?
At Reupp we really believe in unity, coming together to create cool new fandom together. We've even got our first story online! Check it out here: Rays of Being a Lunatic (A Dean Ambrose Story)
---
Do you have a story to tell?
Reupp is a brand new way of creating the ultimate story
- or -